SETTING UP YOUR WORKPLACE CAMPAIGN

If you are interested in running a United Way campaign in your workplace or business, please reach out to United Way at 405-377-2161. We are here to help you run a successful campaign!
HOW TO HAVE A SUCCESSFUL CAMPAIGN
Corporate Gift: Many businesses will match their employee's donations to double the impact and rally employees. 
Workplace Giving Campaign:  Distribute Pledge Cards or use the Online Pledge Form to ask employees to give. You can request an Online Pledge Form from United Way.
Fundraising Activities: Coordinate fundraisers within your business and throughout the community to bring your employees together while raising money for a good cause.
UTILIZE THE EMPLOYEE CAMPAIGN COORDINATOR GUIDE
We've created this Employee Campaign Coordinator (ECC) Guide to help you run a successful workplace campaign! It includes campaign timelines, kickoff planning, sample emails, digital resources and more. See the Campaign Toolkit for more resources. 
Click here to view or download the Employee Campaign Coordinator (ECC) Guide.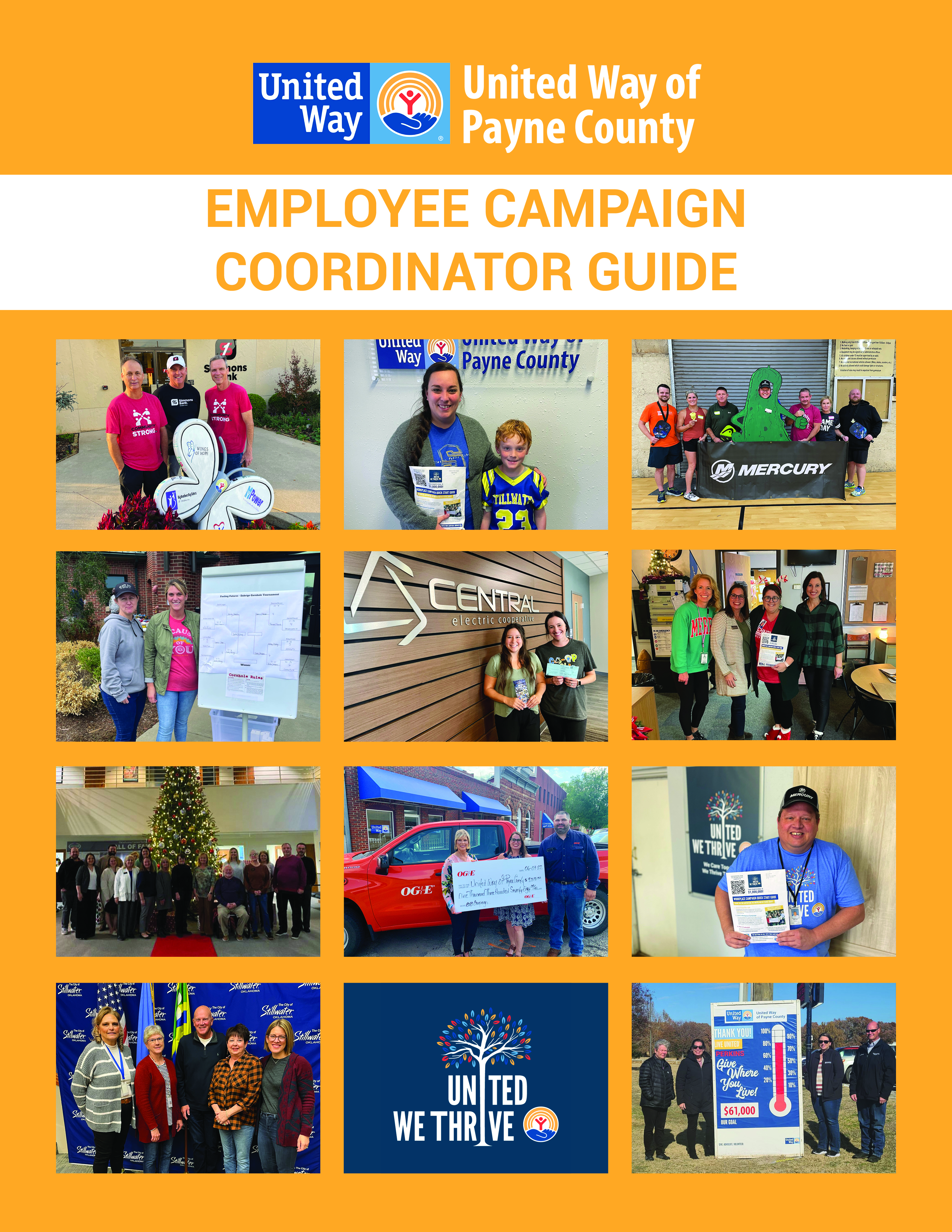 You have your packet, now what?
Please give everyone in your organization an opportunity to donate by distributing the pledge cards and 
brochures provided in this packet. The best way to have a successful campaign is to encourage your coworkers to donate and to incorporate fun fundraising activities into your campaign. Plan to have everything turned in to United Way by November 30, 2023. 
We didn't receive enough materials, what do we do?
If you need more pledge cards or brochures, call 405-377-2161 or email info@unitedwaypaynecounty.org and 
we will bring more to your office.
I'm not good at planning events, what should I do?
Examples of fundraising activities are available on the Campaign Toolkit at www.unitedwaypaynecounty.org/campaign-toolkit. If you need help planning an activity, call the United Way office at 405-377-2161 or email info@unitedwaypaynecounty.org. Typically the more your coworkers can learn about United Way, the more successful the event will be. To schedule a United Way representative to speak during one of your events or staff meetings, call 405-377-2161.
I have everyone's pledge card, what do I do with them?
Once you have collected everyone's pledge cards and donations and your fundraising events are completed, you can call 405-377-2161 or email info@unitedwaypaynecounty.org to have a representative pick up the packet or you can drop off the packet at the United Way office, 109 E. Ninth Ave., Stillwater, OK 74074.
I need more information!
Visit our website at unitedwaypaynecounty.org/campaign, or call 405-377-2161.