DAY OF CARING 2023
The 28th annual Day of Caring by United Way of Payne County will take place Thursday, September 14th. This event brings together volunteers from businesses, schools, civic groups, and the community to complete projects for local service providers and the United Way's 22 nonprofit partner agencies.
Close to 600 volunteers will complete more than 120 community service projects across Payne County including Stillwater, Perkins, and Cushing.
Volunteers are encouraged to join the Day of Caring Breakfast at 7:30 a.m. at Wes Watkins Center. More info below.
CONTACTS:
DAY-OF PROJECT OR VOLUNTEER NEEDS: If you need additional supplies, volunteers or other needs for your project on Day of Caring, call the United Way office at 405-377-2161.
PRE-EVENT - QUESTIONS ABOUT YOUR PROJECT: For questions to prepare for your project, team leaders can call Kyle Gibbs at 405-747-0823.
 

INFO FOR TEAMS & VOLUNTEERS
General Information:
WHEN: The Day of Caring will take place on Thursday, September 14, 2023. Breakfast begins at 7:30 a.m. Volunteers will head to project sites at 8:30 a.m.
T-SHIRT PICKUP: Teams can pick up t-shirts at the United Way office (109 E. 9th Ave.) starting Thursday, September 7th. Pick up hours from 9 a.m. - 5 p.m. It works best for one Team Representative to pick up the shirts and distribute them to all members.
BREAKFAST: We will start the day with breakfast for all volunteers at the Wes Watkins Center located on the northeast corner of Hall of Fame Ave. and Washington St. (N Washington St & W Hall of Fame Ave, Stillwater). Breakfast will start at 7:30 A.M.
BREAKFAST PARKING: Please park in lots to the north and the east of the Wes Watkins Center (lots 99, 9 & 9A). There is some overflow parking on the west side of Washington street (Lots 24 & 26).  Parking map is below.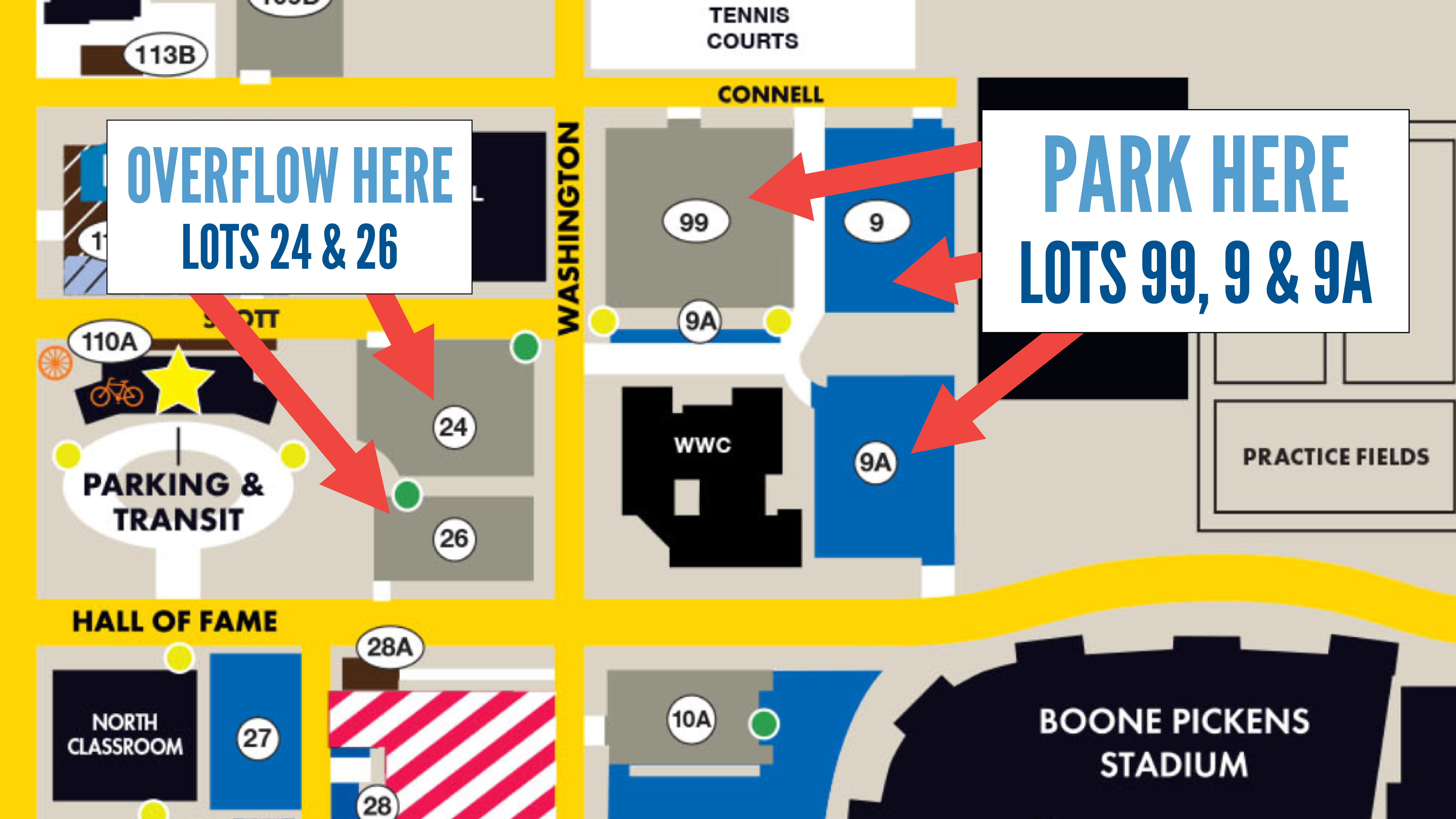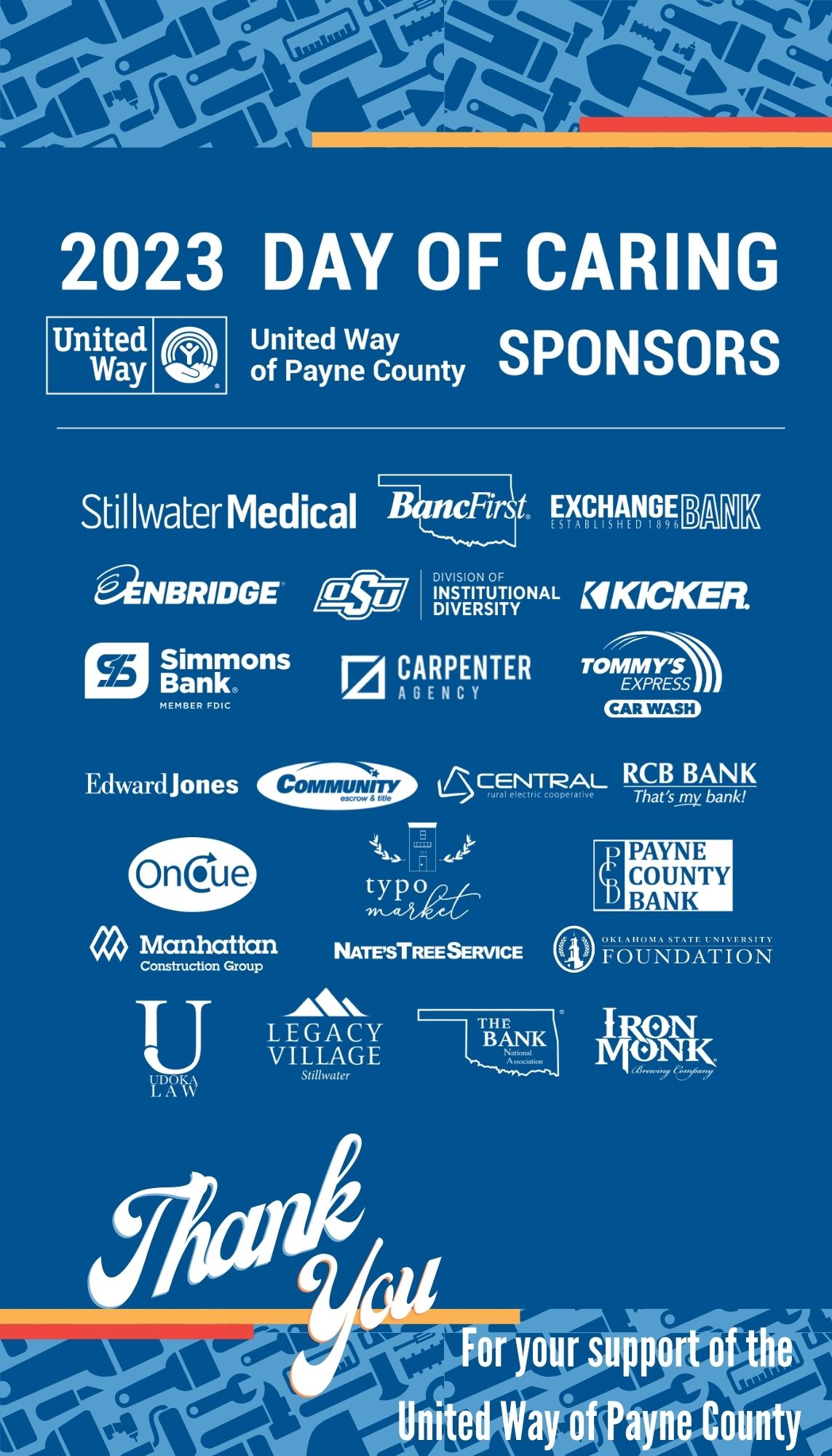 Project Information:
PREVIEW THE PROJECT: Kyle Gibbs has emailed your project assignment to your team leader. Volunteer teams are encouraged to review their project in advance, and bring needed tools such as rakes, shovels, gloves, etc. Team leaders are encouraged to preview their projects. You can call the Agency Contact or Kyle Gibbs at 405-747-0823 to find out more about what your project entails.
ARRIVE AT YOUR PROJECT: Breakfast will conclude around 8:30 a.m. and you will leave for your projects. Volunteers are asked to STAY AT YOUR WORKSITE UNTIL THE PROJECT IS COMPLETE. There is no official end time for your projects, so please complete your project.
EXTRA HELP IS AVAILABLE: We have been blessed with an abundance of volunteers this year. We were able to send multiple volunteers to each site as a result. The work will likely go fast. If you finish early and would like to work more, call the United Way office 405-377-2161. Likewise, if you need more help, call the United Way office.
WINDOW CLEANING: If your project includes window cleaning we recommend you take old newspaper for cleaning windows; newspaper won't leave lint. 
MOBILE MEALS PROJECT TEAMS: If you are assigned to a Mobile Meals client, painting project tools and paint will be waiting for you at the project site. Please return any tools to the United Way office when done.
OTHER MATERIALS: The materials for your projects will be waiting at the job-site. If you find that you need additional items, call the United Way office 405-377-2161. The United Way office will dispatch a Swamper to get what you need.
PAINT: Leave any extra paint at the work site or agency. 
RETURNING TOOLS: When your work is completed, please clean and return any tools (paint brushes, pans, rollers, etc.) to the United Way office at 109 E. Ninth Ave. Leave extra paint at the work site or agency.
CAMERA & PHOTOS: We would like to gather photos of the teams in action. Please use your smartphone to take a group photo and photos of your team at work. Email your photos to Christopher Sneed at marketing@unitedwaypaynecounty.org, or post to social media and tag United Way of Payne County. Post with these hashtags: #UnitedWeThrive #DayofCaring2023
ABOUT DAY OF CARING
A special thanks goes to Kyle Gibbs and April Ebey for sharing their talents as co-chairs for this great event!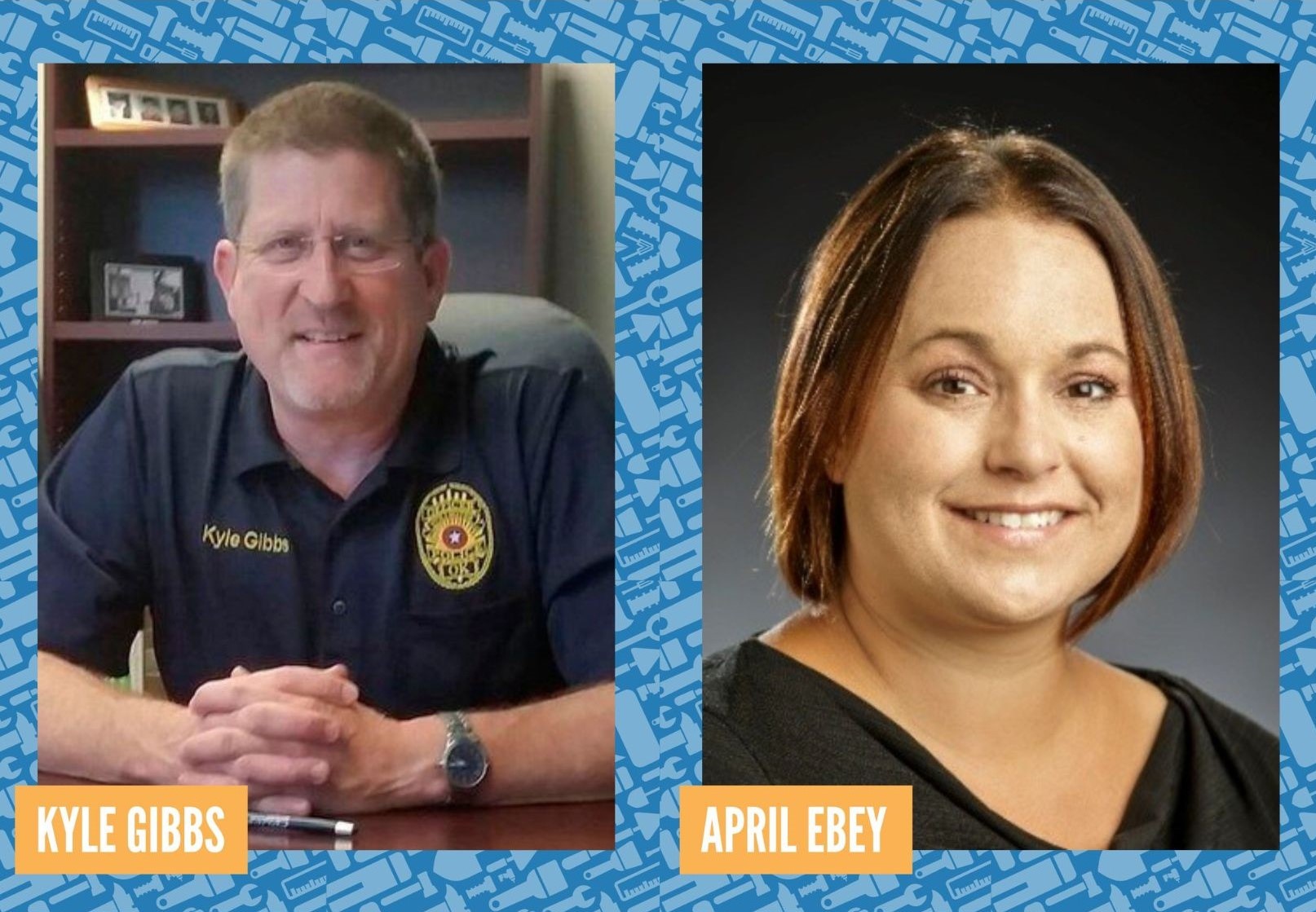 The Day of Caring, beginning in Payne County in 1996, is an annual single-day event where community members volunteer to support the United Way's 22 nonprofit partner agencies and local service organizations.
Originally, Day of Caring was a national United Way event held all over the country on a specific day in the fall. Days of Caring are now scheduled throughout the year in thousands of communities. Day of Caring signifies the public launch of the United Way annual fundraising drive and helps their partner agencies provide important resources to Payne Country's neighbors, peers, coworkers and family members.
The fundraising goal for the 2023 United Way Campaign is set at $1,000,000. One out of THREE Payne County residents receive services from United Way's 22 partner agencies each year. Want to get involved? Learn more at www.unitedwaypaynecounty.org/donate.
RELATED EVENTS:
Stillwater Community BLOOD DRIVE 
Get an Iron Monk glass cup, Raising Cane's combo meal, glow-in-the-dark T-shirt and one free entry to OKC zoo!  Donate blood from 1 p.m. to 7 p.m. Don't miss out!
Stone Cloud Brewing Co. Volunteer Appreciation
On Sept 14, Stone Cloud will donate a portion of the day's proceeds to United Way! Unwind after finishing your project, listen to Richmond Road Band and celebrate your hard work.